Shire Pressure Treated Overlap Shed 7x7 with Double Doors
Price
Now Only
£377.99
GBP
inc VAT & FREE delivery*
Saving
Usual price:
£399.99
.
You save:
£22.00
Availability
No factory stock until Autumn. Sorry, temporarily out of stock (delivery usually 14-21 days)
Stock Reminder
To receive an email reminder when back in stock
Free Delivery?
Delivery will be FREE for this item to your location
Brand

1
Unit Price (inc VAT):
£
377.99
FREE* Home delivery within 14-21 days
Check your location for the Shire delivery service and cost: *A distant location may attract a delivery surcharge
Good news... A convenient PICK-A-DAY delivery service is available
We are pleased to offer you the ability to choose your preferred delivery day for this item. The below calendar indicates the dates currently available (highlighted in green) for your location. You do not need to make your date selection just yet, as you will be asked to make your choice during the checkout process.Note: Pick-A-Day availability may vary or become unavailable if other products are added to your basket too.
Description
The Shire Pressure Treated Overlap Garden Shed 7x7 with Double Doors is part of a range of apex roof sheds made from pressure treated timber, making them much more resistant to rot and insects.

They feature 34x34mm thickness framing that is usually reserved for more expensive tongue and groove buildings. Each of these Overlap sheds have a higher eaves height when compared to the equivalent size, regular overlap buildings allowing more headroom inside the shed.

This 7x7 shed also features a quality joinery opening window that can be placed on either side of the building, to best suit the position of the shed in your garden. The glazing is single pane horticultural glass.

The wall panels are constructed of overlap cladding and supplied in modular sections. The main advantage of a modular design is that each individual panel will be small enough (in one or both dimensions) to be carried by one person and will fit through a standard pedestrian door. As a concequence the individual boards may not line up perfectly with those on adjacent panels, due to the variences in the natural timber cladding.

The roof and floor are formed from a solid sheet boarding, again on a 34x34mm framing. Access is provided by a handy wide double door, complete with a hasp and staple (customer to supply padlock).

Specifications
Detailed Measurements
| | |
| --- | --- |
| External Width (max) | 2201mm - 7' 3" |
| External Depth (max) | 2334mm - 7' 8" |
| External Height (max) | 2112mm - 6' 11" |
| Footprint Width | 2048mm - 6' 9" |
| Footprint Depth | 1980mm - 6' 6" |
| Internal Width (min) | 1980mm - 6' 6" |
| Internal Depth (min) | 1912mm - 6' 3" |
| Internal Height (min) | 2002mm - 6' 7" |
| Ridge Height | 2112mm - 6' 11" |
| Eaves Height | 1749mm - 5' 9" |
| Door Height | 1712mm - 5' 7" |
| Door Width | 1348mm - 4' 5" |
| Door Opening Height | 1712mm - 5' 7" |
| Door Opening Width | 1348mm - 4' 5" |
| Framing Width | 34mm - 0' 1" |
| Framing Depth | 34mm - 0' 1" |
Note: All imperial sizes stated are approximate, rounded to the nearest inch.
Characteristics
| | |
| --- | --- |
| Material | Wood |
| Cladding | Overlap |
| Finish | Sawn |
| Colour | Green Tint |
| Treatment | Pressure treated |
| Door Position | In gable end |
| Orientation | 2.334m Sides x 2.201m gables (max) |
| Weight | 200kg |
| Door Type | Hinged double |
| Door Catch | Hasp & staple |
| Roof Type | Apex |
| Roof Covering | Sand felt |
| Roof Material | 8mm Solid sheet board |
| Wall Material | 6mm Overlap |
| Cladding Material | Overlap |
| Floor Material | 11mm Solid sheet board |
| Floor Joist Direction | Gable to gable |
| Opening Windows | 1 |
| Window Dimensions | 806x806mm |
| Glazing Material | Single glazed glass |
| FSC Certified | Yes |
| Made in Britain | Yes |
Assembly & Care
| | |
| --- | --- |
| Installation | Self-assembly by customer |
| Persons to Assemble | 2 |
| Typical Assembly Time | 2 to 4 Hours |
| Base Size Required | 2048mm x 1980mm |
| Fits Through Door (78x30 inch) | Yes |
| Interchangeable Sides | Yes |
| Annual Treatment | Not required |
Useful To Know
| | |
| --- | --- |
| Warranty | 12 Months parts |
| Recommended Use | Garden storage |
| Includes | A floor, felt, full instructions and fixings |
| Excludes | Assembly |
Our product specifications are given in good faith but can be subject to manufacturer change without notice. Should an attribute be of essense to your purchase, please feel free to contact us first for confirmation.
Delivery
Overview
The Shire Pressure Treated Overlap Shed 7x7 with Double Doors is delivered from central UK stocks by the manufacturer. Shire's own experienced personnel undertake delivery to ensure your goods arrive in a perfect condition.
Vehicle
Shire operate mostly small, flat-bed trucks. If a dustbin lorry can reach your property, Shire should too. Limited access? Please call us prior to ordering to avoid a costly abortive delivery.
Access
Unloading will take place at the kerb-side or your adjacent driveway. Vehicles will not leave the public highway. The driver, at their discretion, may be willing to carry the goods to your garden. Shire will not carry goods through or into your home, therefore you may wish to arrange some extra help privately.
Free Delivery
Shire offer a free delivery service within Central and Southern England, as indicated by their red zone on the map below. The above postcode checker will confirm this for you.
Pick A Day Delivery
For products on '3-7 days' delivery located within the majority of Shire's free red zone, during the checkout process you will be offered a calendar which allows you to select a preferred delivery date. Shire will endeavour to deliver on the date you have chosen. You will be promptly notified in the rare event that an alternative date is necessary for logistical reasons. As BA, BN, BS, SO & SP postcodes are serviced on a 2-day (overnight) run, the actual delivery day may vary by +/- 1 day of the date chosen. The following red zone locations are excluded from the Pick A Day service; BB, BD, FY, GU, PR & PO. Note: When an installation option has been chosen, a Pick-A-Day selection will not be offered; due to additional, post-order labour scheduling.
Delivery Period
Delivery will typically occur within the period quoted on this product. For those products outside the '3-7 days' offer, you will be given the opportunity to chose your delivery date via Shire's online booking portal; a link will be sent by text or email a day or so after order. If a date is not chosen, Shire will notify you in advance by either telephone, text or email to confirm their date of delivery.
Extended Delivery
Less frequently serviced locations such as those outside Shire's red zone, may be subject to an extended period of up to an additional 7-14 days. These distant locations include North and South-West England, Wales and Scotland.
Installation (Extended Delivery)
If an installation option is chosen the product delivery period will increase by approximately 14 days, to accommodate additional labour scheduling. Therefore, a '14 Day' self-assembly delivery will become a '28 day' installed order.
Offshore Delivery
The only offshore location Shire deliver to is the Isle of Wight; PO30-41. A green zone delivery charge applies to this island.
Excluded Locations
Shire does not service the following distant onshore locations; Northern Ireland (BT) and Scottish Highlands (IV, KW, PA20-78 and PH19-44). These form the yellow zone as shown upon the lower map. All offshore locations are excluded too, examples being; Guernsey (GY), Western Isles (HS), Isle of Man (IM), Jersey (JE), Orkney (KW), Shetland (ZE) and Scottish Islands (PA & PH).
Distant Surcharge
Due to additional Shire zone fees, certain distant locations can only be serviced at a surcharge (at cost). The above post code checker can confirm if a surcharge will apply.
These locations include:
Orange Zone (BH,CH,DH,DL,DT,HR,LA,NP,SR,TA,TS) at £24.00 (except 28mm+ Log Cabins at £108.00)
Blue Zone (CA,CF,LD,NE,SY) at £36.00 (except 28mm+ Log Cabins at £168.00)
Green Zone (DG,EH,EX,KA,LL,ML,PL,PO30-41,SA1-18,TD,TQ) at £48.00 (except 28mm+ Log Cabins at £264.00)
Purple Zone (AB,DD,FK,G,KY,PA1-19,PH1-18,SA19-73,TR) at £72.00 (except 28mm+ Log Cabins at £360.00)
This map offers a visual impression of the four surcharge zones. Delivery is free within the central red zone. No delivery service is available to the yellow zone.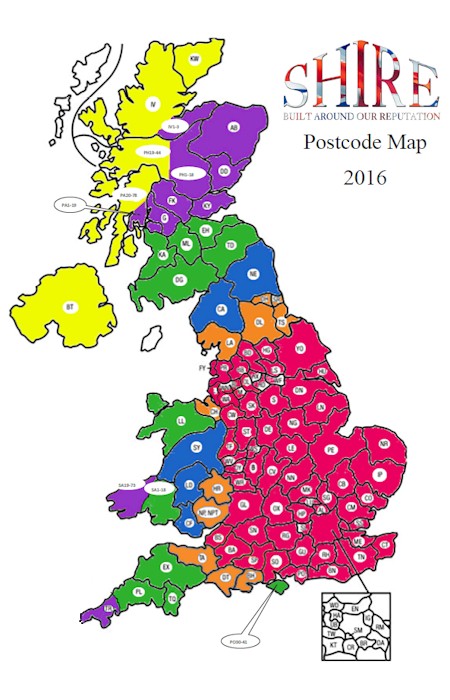 Notes & Information
FAQs
Price Watch
We work tirelessly to ensure that our extensive product range is competitively priced through regular monitoring. In the rare event that you find the Shire Pressure Treated Overlap Shed 7x7 with Double Doors from another online retailer at a lower price then please let us know, we'll do our best to match or even beat it!
Simply submit your Price Watch enquiry using the form below, being sure to complete all fields. On receipt, we will verify that the competitors' offer is available to purchase, like-for-like and delivery inclusive.
Within 1 working day we will confirm One Garden's keenest offer to you, whether that's to beat, match or even congratulate our competitor. Go on, challenge us...
This pressure treated garden shed will naturally fade to a silver-grey. For an alternative colour, simply buy and apply one of the many decorative woodstains we offer in our 'Accessories > Paint & Woodcare' department.
Features
Enhanced-quality Overlap shed, traditional yet practical
Pressure treated cladding to deter insects, rot and fungus
Heavier 34x34mm framing, usually found on superior shiplap sheds
Higher eaves than typical overlap sheds
Windowed side panel for maximum light
Interchangeable side panels
Attributes

Made in Britain
One Garden is proud to support British manufacturing. Products bearing this mark are directly sourced from official, genuine UK manufacturers.

Pick A Day
A convenient service allowing you to select a preferred delivery date. When available (by product & location) various dates will be offered during checkout, including weekends.

Parts Warranty
A standard warranty that offers replacement parts to the purchaser, should a component of their product fail through workmanship within a period of 12 months; customer to fit.

FSC Certified
The Forest Stewardship Council promote responsible forest management. The manufacturer will have used FSC certified timber from managed resources.

Pressure Treatment
Wood is placed into an airtight tank, by vacuum the air is replaced with preservative. This penetrates deep into the pores. This superior process extends lifespan allowing in-ground use.

Overlap
A traditional form of un-jointed cladding where commonly square edge boarding is horizontally overlaid to create a weatherproof face.

OSB (Oriented Strand Board)
Oriented Strand Board also known as OSB. Used in the building industry. Layers of wood flakes set within a glue-like resin are compressed into a solid sheet.

Horticultural Glass
A single sheet of non-toughened standard glass, most often used in garden buildings like summerhouses and sheds.

Hasp and Staple
A steel hasp and staple set is often used for securing wooden doors and gates. Interlocked when closed, being securable by a padlock (not supplied) threaded through an integral loop. Finish and style can vary to suit product.
Reviews
3 out of 5 Wendi Ellis , Littlehampton .

Tuesday 13th November 2018

Okay shed for the money. Relatively easy to put together, but the doors are flimsy and needed a bit of modification to get them to fit properly.

3 out of 5 Paul O\'Carroll, Wingrave.

Wednesday 24th October 2018

A true example of you get what you pay for. The panels are not the sturdiest and the wooden door strips arrived warped out of shape so had to be replaced at own expense from Wickes. Instructions were very poor but, when they went missing, Shire emailed a 28 page manual! If you just want a cheap shed that won't last a century, this is probably it.

3 out of 5 Patricia Brazil, RG4 8JP.

Tuesday 03rd July 2018

The shed is perfect for where we placed it and looks good. However we are having a problem with the doors which are not aligned to enable the doors to open and close properly. I think we will have to get a carpenter to make them fit. (ONE GARDEN COMMENT: Do check your door aperture in horizontally level and vertically plumb, as doors can become misaligned if the floor and structure aren't solidly supported by a level base. If you need further assistance do let us know.)
Click here to read all 3 reviews.
We encourage every purchaser of this product to submit a review. Customers are invited (by post-delivery email) to a web page where their genuine review can be placed.
Looking for something different? Try one of these Wooden Sheds...
Found the Shire Pressure Treated Overlap Shed 7x7 with Double Doors at a lower price than £377.99? Oops... Please let us know.
Our aim is to beat any like-for-like Shire Wooden Sheds online offer. So, please complete our 'Price Watch' form (see tab above), we'll then be in touch with our keenest offer.
Should this Pressure Treated Overlap 7x7 not be the model for you, we're showing up to 4 alternatives above. Wish to see more? Then view our full Wooden Sheds range for the widest possible choice.