Shire Arbour
Price
Now Only
£650.99
GBP
inc VAT & FREE delivery*
Saving
Usual price:
£1052.99
.
You save:
£402.00
38% OFF
Availability
In Stock. Pick-A-Day home delivery from Monday 6th June (subject to location)
Views
13 people are viewing this
Free Delivery?
Delivery will be FREE for this item to your location
Brand

FREE* Home delivery within 7-14 days (estimate)
Check your location for the Shire delivery service and cost: *A distant location may attract a delivery surcharge
Good news... A convenient PICK-A-DAY delivery service is available
We are pleased to offer you the ability to choose your preferred delivery day for this item. The below calendar indicates the dates currently available (highlighted in green) for your location. You do not need to make your date selection just yet, as you will be asked to make your choice during the checkout process.Note: Pick-A-Day availability may vary or become unavailable if other products are added to your basket too.
Description
A Shire Arbour would make a beautiful addition to any garden, giving the benefit of a covered seating area into which you can relax.

The six-sided design has an almost oriental feel. While this arbour has no glazing, it would make an excellent small summerhouse-like getaway for your garden.

Tongue and groove cladding forms the walls, floor and roof, with styled balustrades for the more open areas.

Full instructions will be supplied upon delivery, along with all the fixtures and fittings needed to install the arbour.

Specifications
Detailed Measurements
| | |
| --- | --- |
| Extreme Width (max) | 2652mm - 8' 8" |
| Extreme Depth (max) | 2652mm - 8' 8" |
| Extreme Height (max) | 2680mm - 8' 10" |
| Footprint/ground Width | 2156mm - 7' 1" |
| Footprint/ground Depth | 1867mm - 6' 2" |
| Internal Width (min) | 2088mm - 6' 10" |
| Internal Depth (min) | 1799mm - 5' 11" |
| Internal Height (min) | 2294mm - 7' 6" |
| Ridge Height | 2680mm - 8' 10" |
| Eaves Height | 1847mm - 6' 1" |
| Framing Width | 34mm - 0' 1" |
| Framing Depth | 34mm - 0' 1" |
Note: All imperial sizes stated are approximate, rounded to the nearest inch.
Characteristics
| | |
| --- | --- |
| Material | Wood |
| Cladding | Shiplap |
| Finish | Planed |
| Colour | Green Tint |
| Treatment | Pressure treated |
| Orientation | 2.652m Side-to-side / 2.652m front-to-back (max) |
| Roof Type | Hexagonal |
| Roof Material | 12mm Tongue & groove |
| Wall Material | 12mm Shiplap tongue & groove |
| Cladding Material | Tongue & Groove |
| Floor Material | 19mm Decking board |
| Floor Joist Direction | Side to side |
| FSC Certified | Yes |
| Made in Britain | Yes |
Assembly & Care
| | |
| --- | --- |
| Installation | Self-assembly by customer |
| Persons to Assemble | 2 |
| Typical Assembly Time | 4 to 6 Hours |
| Base Size Required | 2.16 x 1.87m |
| Fits Through Door (78x30 inch) | Yes |
| Interchangeable Sides | No |
| Annual Treatment | Not required |
Useful To Know
| | |
| --- | --- |
| Warranty | 12 Months parts |
| Recommended Use | Relaxation & garden feature |
| Includes | Full instructions and fixings |
| Excludes | Assembly |
Our product specifications are given in good faith but can be subject to manufacturer change without notice. Should an attribute be of essense to your purchase, please feel free to contact us first for confirmation.
Delivery
Overview
The Shire Arbour is delivered from central UK stocks by the manufacturer. Shire's own experienced personnel undertake delivery to ensure your goods arrive in a perfect condition.
Vehicle
Shire operate mostly small, flat-bed trucks. If a dustbin lorry can reach your property, Shire should too. Limited access? Please call us prior to ordering to avoid a costly abortive delivery.
Access
Unloading will take place at the kerb-side or your adjacent driveway. Vehicles will not leave the public highway. The driver, at their discretion, may be willing to carry the goods to your garden. Shire will not carry goods through or into your home, therefore you may wish to arrange some extra help privately.
Free Delivery
Shire offer a free delivery service within Central and Southern England, as indicated by their red zone on the map below. The above postcode checker will confirm this for you.
Pick A Day Delivery
For products on '7-14 days' delivery located within the majority of Shire's free red zone, during the checkout process you will be offered a calendar which allows you to select a preferred delivery date. Shire will endeavour to deliver on the date you have chosen. You will be promptly notified in the rare event that an alternative date is necessary for logistical reasons. As some distant red zone locations (such as BA postcodes) are serviced on a 2-day (overnight) run, the actual delivery day may vary by +/- 1 day of the date chosen. The following red zone locations are excluded from the Pick A Day service; BB, BD, BH, BL, BS, DH, DL, DT, FY, GU, HG, HR, L, PO, PR, SO, SP, SR, TA, TS and WN. Note: When an installation option has been chosen, a Pick-A-Day selection will not be offered; due to additional, post-order labour scheduling.
Delivery Period
Delivery will typically occur within the period quoted on this product. For those products outside the '7-14 days' offer, you will be given the opportunity to chose your delivery date via Shire's online booking portal; a link will be sent by text or email a day or so after order. If a date is not chosen, Shire will notify you in advance by either telephone, text or email to confirm their date of delivery.
Extended Delivery
Less frequently serviced locations such as those outside Shire's red zone, may be subject to an extended period of up to an additional 7-14 days. These distant locations include North and South-West England, Wales and Scotland.
Installation (Extended Delivery)
When an installation service is chosen the product delivery period will increase by approximately 14-28 days, to accommodate additional labour scheduling. Therefore, a '14 Day' self-assembly delivery will become a '28-42 day' installed order. Once placed, Shire will issue an installation pack by email to explain the standard of supporting base required (concrete, paving etc), to enable installation to proceed. Installation scheduling will only commence once the customer returns the base and access information Shire request, including images of their existing base. A prompt return is advisable to avoid delay.
Offshore Delivery
The only offshore location Shire deliver to is the Isle of Wight; PO30-41. A green zone delivery charge applies to this island.
Excluded Locations
Shire does not service the following distant onshore locations; Northern Ireland (BT) and Scottish Highlands (IV4+, KW, PA20-78 and PH19-44). These form the yellow zone as shown upon the lower map. All offshore locations are excluded too, examples being; Guernsey (GY), Western Isles (HS), Isle of Man (IM), Jersey (JE), Orkney (KW), Shetland (ZE) and Scottish Islands (PA & PH).
Distant Surcharge
Due to additional Shire zone fees, certain distant locations can only be serviced at a surcharge (at cost). The above post code checker can confirm if a surcharge will apply.
These locations include:
Orange Zone (CF,CH,LA,NP) at £30.00 (except 28mm+ Log Cabins at £132.00)
Blue Zone (CA,EX,LD,NE,SY) at £36.00 (except 28mm+ Log Cabins at £168.00)
Green Zone (DG,EH,G,KA,LL,ML,PL,PO30-41,SA1-18,TD,TQ) at £48.00 (except 28mm+ Log Cabins at £264.00)
Purple Zone (AB,DD,FK,IV1-3,KY,PA1-19,PH1-18,SA19-73,TR) at £78.00 (except 28mm+ Log Cabins at £360.00)
This map offers a visual impression of the four surcharge zones. Delivery is free within the central red zone. No delivery service is available to the yellow zone.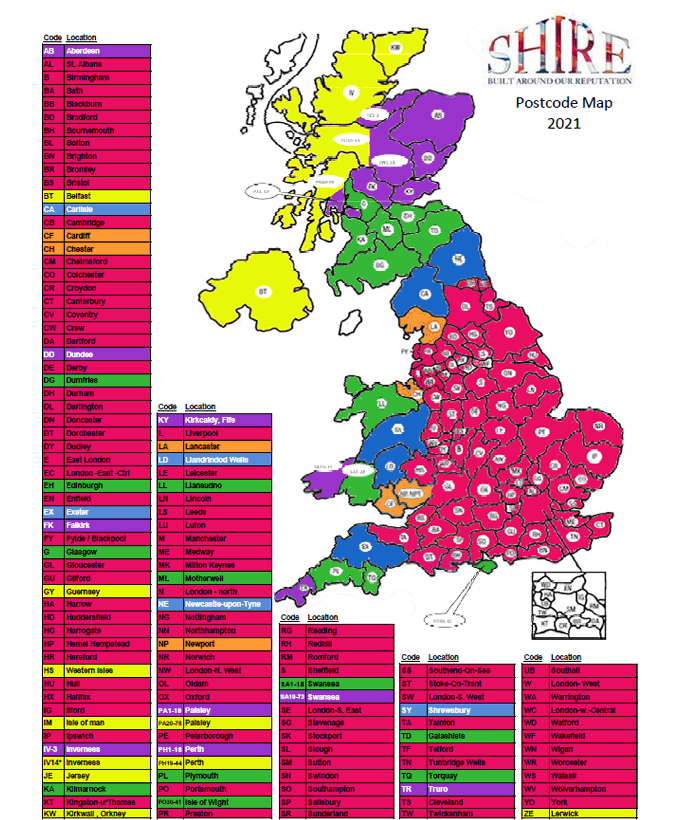 Notes & Information
FAQs
Q: Does the external height include the finial?
A: Actually, no it doesn't. The roof ridge height is 2.68m. With the finial this increases to 2.78m.
Price Watch
We work tirelessly to ensure that our extensive product range is competitively priced through regular monitoring. In the rare event that you find the Shire Arbour from another online retailer at a lower price then please let us know, we'll do our best to match or even beat it!
Simply submit your Price Watch enquiry using the form below, being sure to complete all fields. On receipt, we will verify that the competitors' offer is available to purchase, like-for-like and delivery inclusive.
Within 1 working day we will confirm One Garden's keenest offer to you, whether that's to beat, match or even congratulate our competitor. Go on, challenge us...
This pressure treated wooden arbour will naturally fade to a silver-grey in time. For an alternative colour, simply apply one of the many decorative preservatives available today.
Features
Pressure treated timbers throughout
12mm Tongue & groove shiplap exterior cladding
19mm Extra-thick timber clad floor
Hexagonal floorplan
Smooth finish with shaped balustrade
Fixings and instructions included
Attributes

Made in Britain
One Garden is proud to support British manufacturing. Products bearing this mark are directly sourced from official, genuine UK manufacturers.

FSC Certified
The Forest Stewardship Council promote responsible forest management. The manufacturer will have used FSC certified timber, sustainably sourced from managed resources.

Professional Installation (optional)
Where displayed as a selectable option, for an extra charge, professionals will come to your property to install the product. An appropriately sized, firm and level base will need to be available for them to install.

Pressure Treatment
Wood is placed into an airtight tank, by vacuum the air is replaced with preservative. This penetrates deep into the pores. This superior process extends lifespan allowing in-ground use.

Shiplap Tongue & Groove
A tongue & groove jointed boarding offering a smooth planed finish. Each upper face is shaped with a shallow curve to offer a shiplap, overlapping appearance.
Reviews
(19)
5 out of 5 David , Cambridgeshire .

Monday 25th April 2022

Very pleased with our Shire Arbour, arrived very quickly, delivery chap was excellent, easy to assemble looks great in our garden.

5 out of 5 Fran Glynn, Epworth North Lincs.

Friday 01st April 2022

Very happy with our gazebo although it hasn't been erected yet. Ordering and delivery very straightforward and the driver was very helpful and efficient. All sections in good condition and of good quality. Excellent value for money and looking forward to spending lots of time in it.

3 out of 5 Bill Haworth, Piddington Oxfordshire.

Saturday 02nd October 2021

Relatively inexpensive but poorly constructed, many nails had to be replaced where they protruded, several boards split. Crucial to seal roof boards to prevent rain dripping through. But after reworking, renailing and staining has been admired by many

5 out of 5 Mrs Dawn Cowan , Huddersfield .

Saturday 03rd July 2021

Absolutely love my new arbour looking forward to many evenings sitting in it looks lovely with all the hanging baskets on it and twinkly lights thanks one garden

5 out of 5 Anthony Bentley, Abbots Bromley Staffordshire .

Saturday 26th June 2021

Very good quality easy to erect

5 out of 5 william southward, Workington, cumbria.

Saturday 13th June 2020

This Arbour is good value for the price we paid, under £400.00, and the delivery was on time. If installing this yourself you must ensure you start with a nice flat level base, once you have this assembly is reasonably straight forward. I would also put over-paintable mastic between all the sections especially the roof sections, before fitting to ensure it's totally waterproof.

5 out of 5 Debbie Townsend, Br54lt.

Friday 05th June 2020

Very pleased with my Arbour. Sat perfectly on the base that was built for it. Easily assembled if your good at the DIY. Delivery was on time and was kept up to date with the delivery. So pleased. Thank you

4 out of 5 Terence, Halesowen.

Tuesday 11th June 2019

Fantastic Value product very good assembly instructions. Easy to assemble if you carry out general diy. Definitely need a battery drill/driver. Completed assembly on my own without help. The roof was in six segments and requires a step ladder to help with assembly. I decided to paint each part before starting to carry out main assembly, roof walls and sides all different colours and it looks fabulous. I mounted the floor on a brick support base to keep it from constant moisture. Driver unloaded the unit from the lorry (small lorry) to the driveway in a few minutes and texted me 15 mins before arrival. Each part was easily carried through a normal size doorway to the rear of my property. The two largest pieces being half the size of the base. I had only one problem which I intend to discuss with the manufacturer and that was that the roof segments were all bowed in the centre of each side of each roof segment by 5 mm in the centre so that they didn't fit correctly, only touching in the centre. This may have been just my unit but seemed strange it was the same on all six. I used an electric planer to correct this and all now fitted perfectly. I think that it might be better if you use slightly longer screws to attach the last three roof supports, the screws supplied were a little short I used 120mm 6mm screws instead of the 80mm supplied.

5 out of 5 E Herrera, Horley Surrey.

Saturday 25th May 2019

Delivery process excellent, informed of exact time & very helpful friendly driver. Husband painted with 2 coats Cuprinol shades first before erecting. Fairly easy job but took a bit longer as he did most of it alone. Sturdy construction. Any fine gaps in roof sealed with clear silicone so will be waterproof. Good arbour for the price! Looks lovely in corner of garden & cosy inside. All in all very pleased!

5 out of 5 Amanda Street, High Halstow.

Wednesday 10th April 2019

Absolutely delighted with the Arbour seating area, it looks very pretty, adds an interesting area in an otherwise rather bland area of the garden. The roofline on it is very attractive Most pleased with my purchase.

4 out of 5 Stella Cusworth , Halifax .

Wednesday 03rd April 2019

I am very satisfied with my Shires Gazebo. However organising the delivery by Shires was somewhat fraught. They require photos of the prepared base and its surroundings (for installation to avoid an abortive journey). I was told the delivery vehicle would be the size of a dust-cart, so I forewarned neighbours- then a small vehicle arrived. They said the office would give me a 4- hour time-slot - they didn't! The driver would phone when 30 minutes away - he didn't. So my complaint is with Shires and perhaps you should investigate!? (ONE GARDEN COMMENT: Thank you for your feedback, of which delivery elements may have been misinterpreted or sadly given in error. (1) Vehicles are smaller than a 'Dust Cart', this reference is given as "...if a Dust Cart can reach you the delivery vehicle can" to offer reassurance. (2) Shire's system sends an automated 4hr delivery slot estimation by SMS the day before delivery. (3) No, drivers do not call, they can be tracked via SMS tracking link issued on the day. We apologize that an impression was given that a call would be made.)

4 out of 5 Colin Morley, Saxmundham, Suffolk.

Saturday 13th October 2018

It was easy to put up - my wife and I did it in less than a day. Although good value for money it is a bit wobbly when finished so I braced each panel diagonally with a bit of 2" x 1" timber - it's now pretty rigid. Applying preservative after it is erected is a pain - do it while it's in pieces. Altogether well pleased with it.

5 out of 5 D Grynyer, Shaftesbury.

Friday 05th October 2018

Delivered on time. A well made and nicely finished product, with simple erection facilitated by clear step-by-step instructions. Excellent value.

4 out of 5 Vivianne Lilly, Kent.

Sunday 16th September 2018

We assembled our arbour in a couple of hours, without any problems. The finished product looks really lovely, it's pretty well made and solid. We would recommend it without hesitation. We have knocked a star off as a couple of boards in the pre-assembled base have worked loose in a couple of weeks.

5 out of 5 Mark Peters, Waterlooville.

Saturday 18th August 2018

My diy skills are not the best but the gazebo we got from you was very easy to construct, the instructions were clear and concise and with my wife assisting the job was completed in about 4-5 hours. The product is well made and looks great, we did have a issue with a small piece of trim having a split in it but after an email to your customer services a new one was dispatched, excellent customer service as well. Well done and thank you.

5 out of 5 Andrea Grant, Manchester.

Tuesday 07th August 2018

Excellent service. Delivered on time and when advised. Looks really good quality and all parts present.

4 out of 5 Jonatha Baker, Kent.

Monday 09th July 2018

Good clear instructions. No missing bits. Some of the components, notably the posts, needed a slight dressing with a plane or sandpaper to avoid splinters. It went together well although the roof panels were a little more challenging than the rest of the gazebo. Some additional sealing might be required to make it more waterproof. Otherwise very good value and a pleasing result much admired by all!

2 out of 5 David Brown, Cambridge.

Thursday 21st June 2018

Parts of arbour arrived in poor condition. Reordered parts. Delivered parts still in poor condition. So desperate to stain and erect arbour I am repairing and making good myself. (ONE GARDEN COMMENT: Thank you for your feedback, we are sorry to hear of the quality issues experienced. On reviewing your positive order history none of the above had been reported to us; we assume you chose to contact the manufacturer directly. We remain at your service though should you require further support.)

5 out of 5 Rob, Essex.

Friday 16th March 2018

Lovely arbour, easy to assemble and good quality, just waiting for Summer now so we can use it.
Click here to read all 19 reviews.
We encourage every purchaser of this product to submit a review. Customers are invited (by post-delivery email) to a web page where their genuine review can be placed.
Looking for something different? Try one of these Wooden Gazebos...
Broxton Gazebo
Now only £599.99
11% OFF
£679.99 You Save £80.00
(11)
Open-sided BBQ shelter/gazebo with integrated work surfaces on three sides

Gazebo
Now only £432.99
44% OFF
£785.99 You Save £353.00
(2)
Six-sided gazebo with smooth finish tongue and groove cladding

Appleton Gazebo
Large open gazebo or BBQ cover, T&G clad roof and an attractive curved fascia

Found the Shire Arbour at a lower price than £650.99? Oops... Then please let us know.
Our aim is to beat any like-for-like Shire Wooden Gazebos online offer. Just complete our 'Price Watch' form (see tab above), we'll then be in touch with our keenest offer.
Should this Shire Arbour not be the model for you, here's up to 4 alternatives above. Wish to see more? Then view our full Wooden Gazebos range for the widest possible choice.